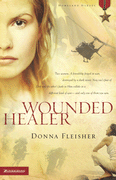 Wounded Healer by Donna Fleisher reviewed by Sara Mills
Christina McIntyre and Erin Mathis served together in the Gulf War and became fast friends before an accidental discovery tore them apart.
Years later, Erin learns that Chris has been involved in a brutal attack and she sets out to find and help the friend sheís never been able to forget.
Chris hasnít forgotten Erin either, but sheís hoped to never see her again. She hasnít let anyone get close to her since the war, and sheís afraid Erin is the one person who could kick down the walls around her heart. Then Erin arrives on her front porch, and Chris has no choice but to let her in.
Is their friendship, forged in battle, and unbroken by time and distance, enough to pull Chris back from the brink of despair and hopelessness?
This storyís war flashbacks were intriguing. They made me wonder if the author herself had been there as she described the exhilaration, the terror, and the boredom of life in the armed services so well.
The book was fast-paced and it kept me reading to the very last page, but I was disturbed by the relationship between these two women. Erinís desire to shepherd her friend into the kingdom of heaven, where Chris will finally be able to let go of all her pain and unhappiness, is admirable. But there were times in the book when I questioned her methods.
Several times, Erinís husband asks her not to put herself at risk by pursuing Chris, but she disregards his council completely in her almost pathological need to stop her friendís self-destruction.
For me this book brought up the question of where boundaries lie, and reminded of something I heard once: ďYou canít make anyone become a Christian. Thatís the work of the Holy Spirit and our only task is to open up the door for Him.Ē
I felt like Erin levered open the door, and shoved her friend through, kicking and screaming, bypassing the Holy Spirit in favor of her plans. And thatís just it, they were HER plans and nothing was going to deter her. A lengthy and over-dramatic conversion scene just made me all the more ill at ease and uncomfortable with the co-dependant relationship between these two women.
The authorís writing talent was evident in this fluid and interesting story, but it wasnít enough to override my qualms about the message Wounded Healer sends.
Click here to learn more about Wounded Healer by Donna Fleisher