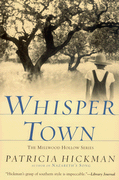 Whisper Town by Patricia Hickman reviewed by Melanie Dobson
"The baby wailed again, its eyes squeezing out tears like a ripe lemon. Jeb lifted the child from the basket, handling it awkwardly, the same as when he'd pulled a bass from White Oak Lake last Saturday… Her skin was soft like peaches but tawny and her eyes stared out like two of Willie's prize marbles."
So begins the latest book in Patricia Hickman's Depression-era Millwood Hollow series.
Whisper Town confronts the issue of racism after someone leaves a black baby at minister Jeb Nubey's front door. Jeb tries desperately to find the baby girl a home, but when no one wants the child, he attempts to care for Myrtle along with three other orphans who already call his house their home.
The church splits over Jeb's act of charity. A handful of people agree he should care for the baby while the rest of the church and the town insist he get rid of the child. Bad things start to happen—threats, violence, and property destruction. But Jeb determines to do what he believes is right, and schoolteacher, Fern Coulter, stands by his side.
The question is…who brought this baby girl to Jeb and why? A black nanny begins caring for Myrtle, and as Jeb's family grows to love this girl, they uncover the painful secrets behind Myrtle's birth as well as a beautiful hope emanating from this pain.
Patricia Hickman has created an excellent story, with strong characters and an intriguing plot that weaves together the potent issues of racial tension and reconciliation. This book has it all—romance, action, and mystery—wrapped together in Patricia's eloquent literary style.
Whisper Town is much more than a historical novel about a small town in Arkansas. It's about faith, dreams, justice, and God's love for all His people. Reading this novel is like savoring a good cup of tea. If you drink it too fast, you'll miss something. And at the end, no matter how slow you sip, you're left thirsty for more.
Click here to buy Whisper Town by Patricia Hickman