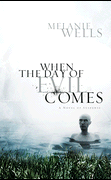 When the Day of Evil Comes by Melanie Wells reviewed by Melanie Dobson
"Creepy" barely describes the man haunting psychology professor Dylan Foster. With his chalk white skin, bony limbs, and hairless body, Peter Terry tortures the professor when she's awake and when she's asleep.
He obviously wants something from her…but what?
Strange things happen after Peter Terry visits. The wedding ring Dylan's mother wore to her grave is wrapped and left in Dylan's car. The stench of rotten eggs overtakes her home. A former patient commits suicide. And a current student goes insane.
Dylan doesn't know what she believes about demons, but she doesn't have much time to decide. She's in a battle for her life and her sanity, and evil is on the move.
When she's finally shoved into action, Dylan uncovers a heartbreaking story that's been buried for more than thirty years, a story with so much power that it's still claiming lives. If Dylan doesn't expose the truth before she's silenced, even more lives will be destroyed.
Author Melanie Wells has developed a reluctant but intriguing main character in Dylan Foster, and a seamless storyline, both in the seen and unseen. This is a suspense novel that will keep you up late reading; terrified, spellbound, and unable to turn off the lights until you've read the last word.
Good wins. Bad wins. Fortunately, this book isn't the end of THE story.
Written by a therapist, When the Day of Evil Comes is a glimpse into the spiritual battle taking place not only for our hearts but also for our minds. While I was disappointed in the lack of resolution regarding Peter Terry, this was a well-crafted novel with a compelling heroine and plot. So compelling in fact, I almost prayed for Dylan's plight before shaking my head and reminding myself that while spiritual battles are ever so real, When the Day of Evil Comes is a work of art.
Click here to buy When the Day of Evil Comes by Melanie Wells