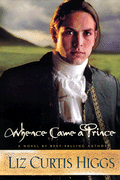 Whence Came A Prince by Liz Curtis Higgs reviewed by Diana Urban
Liz Curtis Higgs reveals the breathtaking conclusion to her recent Scottish trilogy in Whence Came A Prince.
At 537 pages, this book might seem like a daunting read, but I'm not a fast reader, and I devoured it in less than a week. The compelling plot, characters, and setting drew me wholly into eighteenth century Scotland. In fact, I found it difficult to resurface and find myself in twenty-first century America.
As Whence Came a Prince opens, we join Leana at her aunt's home, Burnside Cottage, where she fled to escape the unexpected turmoil that changed her life from a dream to a nightmare.
Rose discovers she is expecting, and Jaime plans for them to return to his home, Glentrool. However, Lachlan, Rose's father, and circumstances both conspire to keep Jaime and Rose at Auchengray, Lachlan's holding.
Throughout the series, Higgs has shown Lachlan to be a conniving character solely interested in his own gain. He remains true to character in the third book, and Higgs treats us to some scenes from his point of view so we can fully appreciate his nastiness.
Once again, Jaime and the two sisters face a situation impossible to cope with except for God's grace. Jaime at last outwits Lachlan at his own game and leaves for Glentrool with his family, fearing the reception he will receive from Evan, the brother he deceived. He need not have worried, because Evan welcomes him and his family with open arms.
As they continue their journey, tragedy strikes, devastating the small group of travelers. Then they arrive at Jaime's home to find another terrible event has occurred. Through all that happens, God is faithful to each of them. Only He can orchestrate our lives perfectly, as He did for Jacob, Leah, and Rachel. Higgs does a wonderful job of portraying events as they might have occurred in a more recent time. Whence Came a Prince reminds us "weeping may endure for a night, but joy cometh in the morning" (Psalm 30:5.)
The conclusion left me satisfied and eager to read Higgs' next book, Grace in Thine Eyes, which should be in stores in spring 2006.
Click here to buy Whence Came A Prince by Liz Curtis Higgs