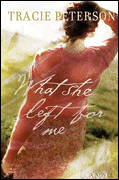 What She Left For Me by Tracie Peterson reviewed by Laura Domino
Jana McGuire's life is being turned upside down while she's away on a mission trip – and she doesn't have a clue.
When no one shows up at the airport to welcome her home, she's disappointed.
When she finds her husband's note left on the breakfast bar at home, she can't believe it.
When she finds her bank account and her jewelry box empty, she loses her faith.
How this could have happened? Where God was in all of this?
One tragic turn of events piled on top of another forces Jana to ask for help from the one woman who should welcome her, but in the past has only made her feel unimportant and pushed aside: her mother Eleanor.
In an effort to protect herself and her daughter, Eleanor Templeton tries to keep her own past in the past. Re-living it is too painful.
But sometimes learning to release the guilt and forgive is hardest for the person who needs it most. Internalizing the pain, and just trying to wish it away, blinds Eleanor to the problems she causes Jana.
Eighty-year old Taffy Anderson, has learned how to forgive herself and others, and she longs to impart her hard-earned wisdom to her niece, Eleanor, and her great-niece, Jana—if only they will listen.
Have you ever wanted to pray for someone, and then remembered they're only characters in a book? This story, which captures the difficult issues of infidelity and child abuse without graphic reference, was so vivid that I had to remind myself, "These are not real people." But there are plenty of real people who must deal with these issues every day.
Tracie Peterson's compassion for hurting women is seen in this emotional story about the ripple effect of love denied. She pushes through the reasons why the pain began and ends with real answers about God's love.
No one expects tragedy, but it's comforting to know that God is always there ready to help us deal with the pain. Ready to give us more than – What She Left For Me.
Click here to buy What She Left For Me by Tracie Peterson