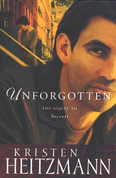 Unforgotten by Kristen Heitzmann reviewed by Laura Domino and Kelli Standish
Twists and turns abound in this heart-grabbing sequel to Kristen Heitzmann's Christy award winning book, Secrets.
From the first page of Unforgotten, we are immersed in the vibrant Italian culture of the Michelli family, as Lance Michelli, accompanied by love interest Rese Barrett, returns to his home in the Bronx to be with his ailing Nonna Antonia.
Lance is bound to his Nonna by family loyalty, deep affection, and the knowledge that he alone can bring her peace. But when he presents her with her long-lost diary, and a box filled with mysterious photos, the pain of Antonia's memories nearly kills her.
With his Nonna disabled and frustrated, and his family blaming him for the stroke his gift brought on, Lance wonders if he should have allowed the past to stay forgotten.
Meanwhile Rese, a stoic Californian, finds her beliefs and comfort zones challenged on every level as she is introduced to Lance's Italian family. She is surprised at the open display of affection between his parents, and annoyed and uncomfortable with the intense scrutiny and fussing that is a normal part of this New York family. Then she gets to know them, and finds herself enchanted by their vivacious way of life.
Soon Rese has to go back to her bed-and-breakfast in Sonoma, but she has no desire to leave the Bronx without Lance. Without him, and his skills as a chef, the Wayfaring Inn will not succeed. Unfortunately, Nonna Antonia is unwilling to let Lance go until he retrieves a mysterious lock-box from a local bank.
The contents of that box will devastate them all, and require an irrevocable payment price for a vendetta that has gone on for years.
Heitzmann brings two series together with the story of Antonia-- who is the bridge between Carina and Quillan Shepard, featured in the Diamond of the Rockies series, and their great, great grandson, Lance Michelli. Readers are given glimpses into Antonia's childhood, her relationship with Quillan and Carina, and her marriage to Marco Michelli. We're also given the chance to see deeper into the hearts of Lance, Rese, and the flamboyant Rico and Star.
The stories blend as well as the seasonings in Carina's, Antonia's, and Lance's marvelous Italian meals, and show us how life, in all its chaos and interconnectedness points to the love of God. This lesson, of all we learn in this book, should remain...unforgotten.
Click here to buy Unforgotten by Kristen Heitzmann