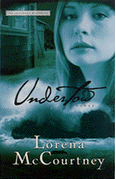 Undertow by Lorena McCourtney reviewed by Kelli Standish
"The past is behind me." Or so Angie Harrison, Undertow's heroine, would like to think.
Yet these five words may not be as true as she hopes. She's left her high paying modeling career and stockbroker boyfriend in New York, moved to Julesburg, and become editor of the local paper, all in an attempt to run from the dark shadows of her past. But has she run far enough? And can she ever escape the shadows lurking in her heart?
Without question, Undertow is the best story yet in award-winning storyteller, Lorena McCourtney's Julesburg mystery series. In addition to the re-appearance of Ryan and Stephanie (from Whirlpool), readers will be pleased to discover the return of one more familiar character in Undertow. The character? The hauntingly historic Nevermore Theatre!
As Angie looks for news stories in her small, uneventful town, she realizes her best story waits beneath the knife-like billboard of the Nevermore.
Is the place truly haunted, as many in Julesburg believe? Or is the frightening list of suicides, drownings and accidents that happened in the lives of past owners merely coincidental? And what about the unsolved murder that took place within its sagging gold walls thirty years ago?
Despite warnings from local townspeople, Angie begins digging into the checkered history of the theatre. But the murder of a close friend, a visit from her abusive ex-boyfriend, and the return of a long lost love are just the first currents of a terrible Undertow that soon surrounds her.
Can she turn to God with the torment of her past and the fears of her present? Or will the cloak of secrets and evil that surrounds the Nevermore suffocate her heart and perhaps her very life?
Not just an enjoyable read, but also a powerful tale of fatal choices and victorious forgiveness. Undertow is highly recommended!
Click here to buy Undertow by Lorena McCourtney