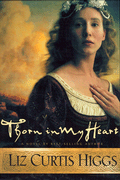 Thorn in My Heart by Liz Curtis Higgs reviewed by Diana Urban
Thorn in My Heart is the first book I've read by Liz Curtis Higgs, and I'll definitely be reading more.
I love historical fiction, and Higgs did a fabulous job with this historical tale. My favorite part about this book is the way she uses Scottish dialect and makes it perfectly understandable, either through context or with a seamless explanation.
The story is that of Leah, Rachel, and Jacob, taken from Genesis 27-29 in the Bible. I wondered how she would translate that into 18th century Scotland and make it work. The author's notes at the end reveal her secret—she researched the location and time period thoroughly, which lends the story an authentic feel. She weaves in Scottish traditions and lore without making readers feel they're steeped in a history lesson.
Higgs treats readers to the unusual viewpoint of Leana (Leah), who is typically the unsympathetic character in the Bible. Here we get a taste of what it might have been like for Leah, Jacob's spurned wife. Jaime (Jacob) steals his brother Evan's birthright from their aging father. When Evan threatens to kill Jaime, he and his parents decide he must escape to his uncle's home and marry one of his two cousins, either Leana (Leah) or Rose (Rachel), and sire an heir.
Thoughtful, intelligent Leana is swept off her feet from the moment she sets eyes on Jaime. Rose's delight knows no bounds, because she has no intention of marrying at age fifteen. Rose does her best to act as matchmaker for Jaime and Leana, but Jaime only has eyes for Rose, who notices his charms too late. One moment Jaime's thoughtless actions dash Leana's hopes for a relationship, and the next moment, the smallest crumb of his attention raises her hopes again. Both Rose and their father, Lachlan (Laban), encourage Leana to be forthright with Jaime, with disastrous consequences.
Through all this, Higgs masterfully lets us dwell in the minds of the completely sympathetic characters, so we understand not only their motives, but also their joys and frustrations. The sisters' love and devotion to each other, and their heartbreak at the outcome brought about by their scheming father, touched a chord in me. Thorn in My Heart gave me a fresh perspective on the agony two girls who lived nearly four millennia ago must have endured in such trying circumstances. However, the Bible gives us evidence that even in the struggle Leana/Leah faced, God held her in His arms, close to His heart.
I highly recommend this book. Stay tuned for reviews of Fair as the Rose and Whence Came a Prince!
Click here to buy Thorn in My Heart by Liz Curtis Higgs