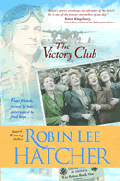 The Victory Club by Robin Lee Hatcher reviewed by Vennessa Ng
The year is 1943 and World War II grips the nations. With their loved ones away in far off countries fighting for freedom, four women decide to do something extra to help matters at home. So begins the Victory Club.
Lucy, Margo, Dottie, and Penelope come together to pray and seek ways to help those that are struggling during this time of war. But they too face struggles, ones they donít always openly share with each other.
Loneliness plagues Lucy. As she waits on word from her husband, she is drawn into a friendship that could destroy all she cherishes.
Margoís hurt and bitterness from the past has built a shield of coldness around her, a shield that firmly blocks Godís unending mercy.
Margoís daughter, Dottie, finds herself facing the consequences of temptation and sin. As Dottie finds Godís forgiveness, her motherís harsh religiosity blocks the love Dottie seeks as she awaits news from her boyfriend overseas.
Bitterness consumes Penelope. When her younger sister sets off to war, Penelope determines to escape the mundane life before her, no matter the cost.
Each woman deals with issues of fear and death as they eagerly await word from their loved ones on the battlefield. Months can go by without news from overseas, and when word does get through, it isnít always what the women hope to hear.
I read this book in two sittings, a very rare thing for me. Drawn into the era of 1943, with its high emotions and uncertainty, I found it difficult to put this book down once I started.
Hatcherís clever use of V-mail correspondence inserts, exchanged between those waiting at home and those in the throes of war, allowed me to experience the emotions and struggles of each woman first hand. Telegrams and snippets of newspaper reports also helped bring this story to life.
The Victory Club tells the compelling story of four women as they face issues of loneliness, temptation, sin, selfishness, and legalism. Through this heart-wrenching tale, we follow the women as they find mercy and trust in the one true God, and ultimately learn that God is in control.
An unforgettable and enjoyable story.
Click here to buy The Victory Club by Robin Lee Hatcher