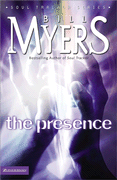 The Presence by Bill Myers reviewed by Cheryl Russell
Eighty-seven-year-old Norman E. Orbolitz wants control of his destiny, and he's going to outmaneuver God to get it.
To accomplish this goal, Norman and his team of scientists record the death experiences of thirteen hundred "volunteers". After making each recording, they isolate one aspect of death — the moment each soul entered God's presence.
The biggest problem with analyzing these 'God Moments', is that everyone who's exposed to even a small glimpse of the Presence of God dies. Norman needs a new group—one of his own choosing—to carry out the experiment to its conclusion. So he runs one last intense test.
By exposing this final, select group to the Presence, and recording their reactions, Norman believes he'll discover a way to usurp God and gain eternal life. But will he? And is he in control of the Presence, or do forces greater than he imagines control him?
New Christian David Kaufman, who will be familiar to readers of Meyers' Soul Tracker, attends a séance in the mountains of Washington at the request of widow Savannah Hawkins. Savannah is convinced that David holds the key to contacting her dead husband, and she's willing to pay him for it. To the tune of twenty-five thousand dollars.
David is sure the whole thing is an elaborate set-up, and is determined to expose Rachel McPherson, the way-too-attractive leader of the ritual, as the fraud she is. But the popular television medium and author may not be a fraud in the way he expects. And the dark secrets she carries may destroy her…if the Presence doesn't kill her first.
Before the Norman's experiment ends, David, Rachel, and Savannah, and the others in their group, will encounter a mind-bending evil that seeks to destroy them and an irresistible Love that longs to save them.
Readers beware: Picking up this book to read a couple chapters before bed is not a good idea if you hope to actually sleep that night. I was drawn in to this story from the spine-chilling séance on first page and lost all track of time. Even when I put it down, Myers' brilliant writing branded vivid images in my head that wouldn't let me sleep.
Bill Myers takes the battle between good and evil, as well as the battles that rage within all of us, and weaves them together in this page-turning story. You won't put it down until you've read the last word.
Click here to buy The Presence by Bill Myers