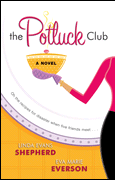 The Potluck Club by Linda Evans Shepherd and Eva Marie Everson reviewed by Diana Urban
The Potluck Club began as a twosome, just kitchen-phobic old maid Evangeline Benson and her lifelong friend, Ruth Ann McDonald. They met once a month, in their small town of Summit View, Colorado, for gossip, goulash, and a dash of prayer.
Then Evangeline's biggest prayer wasn't answered, and Ruth Ann died of cancer.
Now Evangeline has taken on the presidency of the group, and the Potluck Club has expanded to six women who share prayer, recipes, and social time, not necessarily in that order. Unfortunately, the stews this club creates don't always include meat and vegetables.
What begins as a light-hearted jaunt through small-town U.S.A.'s daily happenings turns serious as the six members of the Potluck Club each face real-life issues, including grief, marital problems, serious illness, and family troubles. One member's past confronts her, and she must decide what to do about a secret she's harbored for years. Another member is determined to take over leadership of the club, by force if necessary. And Evangeline has to figure out what to do when her childhood sweetheart wants another chance.
Along the way, Clay Whitefield, the local journalist, and a man determined to expose the secrets of the Potluck Club, stirs the mix by giving his insights into each of the women's personalities.
Authors Linda Evans Shepherd and Eva Marie Everson weave in a subtle spiritual thread as the Potluckers realize they have put God on the back burner of their cooking club. Through their friendships and the crises they face, each realizes what has interfered with her relationship with the Lord and overcomes her personal stumbling block to draw closer to Him.
At first, I was tempted to dismiss this book as being too frivolous, because I'm not a big fan of warm and fuzzy women's gatherings. Then I found the six women's first-person points of view, plus excerpts from Clay Whitefield's journal, confusing.
However, after a few chapters, I realized each one started with the point of view character's name. Once I knew whose thoughts I was reading and whose perspective I was seeing, the conversational tone of the book pulled me right in, and I had a hard time putting it down. In fact, I stayed up way too late one night because I wanted to finish the book.
At the end of the book, Shepherd and Everson provide a feast of fantastic recipes for everything from Chai tea to Cheese Enchiladas. They also give a sneak peek of their next book in the series, due out next year. And in a last entry at the back, journalist Clay Whitefield hints that the deepest secret of all has not yet been revealed.
I look forward to another heaping helping of the Potluck Club's adventures in the summer of 2006!
Click here to buy The Potluck Club by Linda Evans Shepherd and Eva Marie Everson