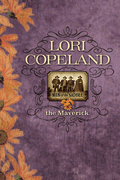 The Maverick by Lori Copeland reviewed by Laura Domino
Susanne McCord has a problem. She needs to make the long journey from St. Louis, Missouri to her home in Cherry Grove, Kansas with nine orphans in her care. If she wants to get home at all, she's going to have to call in every favor and use every weapon in her arsenal.
She saves her heaviest artillery for maverick Cass Claxton, the man she's been married to in name only for the past six years, and the only man who can help her.
Assuming the marriage has long since been annulled, Cass is surprised to learn that he's still married. Susanne promises to sign the annulment papers once she and the orphans arrive safely in Cherry Grove under his protection. Although irritated by her finagling, he agrees to assist them in their long journey – for the children's sake and to ensure his freedom.
Amid the trail dangers, Cass finds out many things about the whip-swinging beauty he married years ago. He already knows Susanne has a mind of her own, and she's a mean sharpshooter—with words, that is.
Holding her tongue doesn't come easy for Susanne, especially as she finds herself actually falling in love with her husband. But what good is love if she'll lose him for good at the end of the trail?
The Maverick is the third book in the Men of the Saddle series. It includes references to Cass's brothers' stories, but is delightful on its own. Lori Copeland knows how to weave desire, disappointment, fear, and anger with tragically tender moments like the loss of a loved one.
I enjoyed the Claxton wink and the sprinklings of humor in this book. I felt like yelling out to Susanne in a couple of places, "Stop and think about what you're doing, girl!"
Forgetting Susanne McCord is impossible for Cass Claxton. The "satisfied sigh" ending of this book ensures you won't forget Susanne or her man, The Maverick.
Click here to buy The Maverick by Lori Copeland