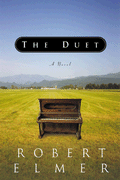 The Duet by Robert Elmer reviewed by Vennessa Ng
In this charming novel, unlikely couple Gerrit Appledoorn and Joan Horton find the sweetest music is the song of their hearts. But can they overcome their opposing views? Or will their clash of opinions lead to permanent disharmony?
Gerrit, a retired dairy farmer, struggles with too much time on his hands, a computer that won't co-operate, and a family crisis of catastrophic proportions. He likes Dubbel Zout, drives a tractor, wears muddy boots and overalls, and works the land even when his doctor forbids it. Delicate, cultured, East Coast Joan is as foreign to him as her classical music.
Joan, a college professor, is on a year's sabbatical after the traumatic death of a loved one. She arrives in rural Van Dalen to be closer to her pregnant daughter and finds work as the small town's new piano teacher. What she doesn't expect to find is a rough-around-the-edges, Calvinist farmer, with a heart of gold and an ear for music.
When Gerrit's granddaughter, Mallory, becomes a student of Joan's, Gerrit is also drawn to Joan's music. As the months pass, he is surprised to find the sweet melody of romance filling his mind as well. But Joan has a secret from the past, one that is about to catch up with her and possibly destroy any happiness on their horizon.
The Duet is a wonderful, witty novel. Real-as-life characters and a thought-provoking subplot about denominational acceptance add great depth to the tale's light-hearted dialogue.
At first, I was a little doubtful about this story. Robert Elmer wasn't an author I associated with adult romantic fiction. After all, my six-year-old daughter loves her Robert Elmer AstroKid's series. How does a children's writer cross over to adult fiction? Remarkably well, if The Duet is anything to go by. He now has two fans in our house.
And if you want the mysterious Dubbel Zout explained, go read the book! There you'll find a description of this unusual substance, and a story that will keep you smiling from cover to cover.
Click here to buy The Duet by Robert Elmer