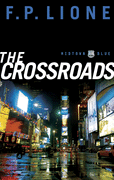 The Crossroads by F.P. Lione reviewed by Sara Mills
Read any of Apostle Paulís letters to the early Christian churches and youíll see that becoming a Christian doesnít automatically make your life calm, peaceful, and easy. Tony Cavalucci discovers this hard truth in The Crossroads, the second book in F.P. Lioneís Midtown Blue Series.
Book one, The Deuce introduced us to Tony, a hard drinking, hard partying, hurting New York cop. Already backed into a corner and feeling like he has no place left to turn, heís blindsided by a new partner who shows him that God has another plan for his life. Towards the end of The Deuce, Tony acts on his partnerís encouragement and turns his life over to God. But does that mean all his problems disappear in a cloud of heavenly glory? Not by a long shot.
In The Crossroads, Tony faces pressure from all sides, as everyone demands that he change. His family wants him to change back to the man that he was, the one they were comfortable with. His friends want their bar buddy back, someone who wonít make them uncomfortable with any newfound morality.
His partner wants him to grow in Christ, to learn more about what it means to be a Christian. And his girlfriend wants him to stop repeating the same old destructive family cycles that have been a part of his life for years.
Tony suddenly doesnít fit in his own world.
So whatís he supposed to do? Would he be better off forgetting the morality stuff and going back to his old ways? Can he find a way to balance reality and faith on the hard streets of New York?
Tonyís struggles with the pressures and expectations set upon him remind me of why I loved the first book in this series. The gritty reality of The Deuce grabbed me, and The Crossroads has the same quality behind it. Husband and wife author team F.P. Lione have captured the reality of life, the good times and the rough ones, and the decisions that donít seem to have a right answer.
Although The Crossroads is a police procedural novel, it focuses more on Tonyís life than a case. Iíve decided to call this series Ďcop-lití because it is character driven rather than plot driven, and centers around the changes in Tony and how those changes affect each aspect of his life and his work as one of N.Y.P.D.ís finest.
This book filled a hole for me in the Christian fiction world. Itís literary in style, and yet a gritty and real cop drama with an interesting story line. In the past, Iíve read books in the non-Christian market to fill my need for this type of book. I donít think Iíll need to look there anymore.
Click here to buy The Crossroads by F.P. Lione