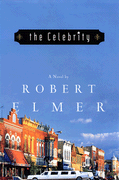 The Celebrity by Robert Elmer reviewed by Diana Urban
"Fame lost its appeal for me when I went into a public restroom and an autograph seeker handed me a pen and paper under the stall door." – Marlo Thomas
So begins Robert Elmer's heartwarming book, The Celebrity.
When Jamie D. Lane, a singer "who's better than that Groban guy," faces a family tragedy, he realizes the spotlight he basks in nightly might be the headlight of a train bearing down on him. On the edge of a breakdown, and tasked with filling a loved one's last request, he disguises himself as "Joe Bradley" and disappears into small-town America.
Then he meets Anne Stewart, the victim of a traumatic brain injury, and his reasons for hiding his identity change.
Anne, a teacher and former track star, struggles with anger over the accident that changed her personality and her life. She's not the same person she was before, and she can't forgive the drunk driver who nearly killed her.
Forced to return to her hometown after the accident, she finds a job teaching at the local school, where she finds acceptance with her students in spite of her physical limitations.
When "Joe" starts working for Anne's father, he is instantly drawn to Anne. They both fight the attraction: he knows he plans to leave town, and she doubts his ability to love her despite her limitations.
Things start to unravel when Joe offers to help Anne with a school project, and she learns more about him than he intends. Will her discovery ruin their relationship or cement it?
Elmer does a fantastic job developing the relationship between Jamie and Anne. Both characters seemed so real, I felt as though I might know them from somewhere. I sympathized with Anne as she came to terms with her disability. Jamie's search for God touched me, and his kind-hearted nature warmed me. You'll be inspired and encouraged by the generosity of the story's mysterious Good Samaritan as well.
Watch for Robert Elmer's next book, The Recital, a sequel to The Duet, due out from Waterbrook June 2006.
Click here to buy The Celebrity by Robert Elmer