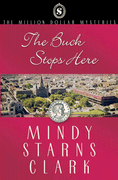 The Buck Stops Here by Mindy Starns Clark reviewed by Kelli Standish
The fearless word-vessel M.S. Clark has returned to the dock at readerville carrying yet another fabulous story.
And this is the story we've all been waiting for.
What is Tom's deep, dark secret? And what does Eli, Callie's long-time mentor and friend know about it? Will Callie ever be able to sleuth out, much less forgive Tom's past? And when her heart is on the line, how far beyond the law will she go to get results? What shadowy group will do anything to keep her from learning the details of her husband's death? Is Callie and Tom's relationship doomed? Or will they live happily ever after?
These are just a few of the questions answered, and answered in a most satisfactory way, in The Buck Stops Here.
Add to all this a deadly snake, a masquerade ball, an unexpected swim, a secret guarded by a pit of alligators, a charming New Orleans bachelor who'd like to win Callie from Tom forever, an encounter with an extremely powerful government official, and a lethal poison hidden in a surprising place, and you've got a recipe for a mystery you won't soon forget!
The only bad part about The Buck Stops Here is that with the ending of this series we have to say goodbye to Callie, a character who has become very much like a beloved family member to us all!
So please, WRITE ON, Mindy. We anxiously await your next work of literary genius:)
Click here to buy The Buck Stops Here by Mindy Starns Clark