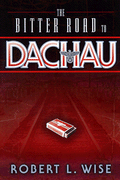 The Bitter Road to Dachau by Robert L. Wise reviewed by Cheryl Russell
Pastor Christian Reger's descent into hell begins in 1940.
As a leader in the Confessing Church during World War II, he is arrested by the Nazis and eventually sent to the Dachau concentration camp. Here, as prisoner number 26661, he will spend the next five years fighting to survive.
In this place where brutality thrives, Christianís physical survival is not the only thing at stake. His faith is also in danger of destruction, and the God he believes in seems a million miles away.
Bitterness threatens to overtake Christian, as it has fellow pastor, Wilhelm Dittner. But other clergy-prisonersómen like Leonard Steinwelder, a Catholic priest, and Werner Sylten, a Protestant pastor sentenced to imprisonment because he had a Jewish great-grandmotheróare trying to hold onto their faith, trying to take the higher road.
And in this hell on earth, small amounts of grace shine through. A matchbox with a secret message is slipped to Reger before he is packed into a cattle car and shipped to Dachau. A simple catechism lesson from long ago surfaces, reaffirming that even though the Nazis see him as a number, to God he has a name. And a time spent praying for his enemy gives Christian a deep sense of the peace and presence of God.
Eventually the Nazis permit the clergy to build a chapel. It is small, and confined to Barrack 26, the Pastors' Barracks, but the small, humble room is what keeps the men of Barrack 26 hopeful. These once-a-month services bring new life to Christianís faith and sustain him throughout his imprisonment.
Although the descriptions of Godís miraculous hand in the story are powerful, this book is a difficult read. Not because of the subject matter, but because of the way it's written. Christian Regerís life is described in one long flashback, with smaller flashbacks inserted into the continuous one. As a result, it's difficult to keep things in chronological order. And the story veers off on tangents throughout the book.
I also found it confusing to read a fiction novel with a real person as the main protagonist. Throughout each page, I was unsure what to take as fact, and what to consider fiction. With that in mind, I think this book fits better into the creative non-fiction genre than historical fiction, and I believe it would make an excellent real-life biography if re-written in that form.
In spite of the book's shortcomings, Christian Reger's story of faith and courage is a compelling one. The lessons he learned about forgiveness, mercy, grace, and tolerance are as relevant today as they were in the blackness of Dachau. The Bitter Road to Dachau, if read as a non-fiction account of a horrific and yet glorious experience, has much to offer.
Click here to buy The Bitter Road to Dachau by Robert L. Wise