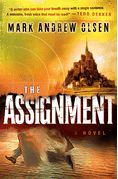 The Assignment by Mark Andrew Olsen reviewed by Kelli Standish
Since The Assignment is the first book I have ever seen endorsed by Ted Dekker, I was instantly curious about the story.
Now, after emerging from this incredible tale, a tale told well by an author with obvious, undeniable talent, I can see why Ted Dekker called Mark Andrew Olsen "A welcome, fresh voice."
I am also gnashing my teeth. A writer with this kind of skill deserved the best editing a publishing house could offer. In my opinion this did not happen with The Assignment.
The sad lack of editing attention is showcased through character point of views that switch within the space of an unmarked paragraph, and words that repeat within a line.
The Biblical justification that makes the hero's existence plausible throughout the book is cast aside at the climax of the story.
Journal entries written by the hero are intriguing, but as the story progresses these italic print missives increase in both frequency and length, and become tedious history narratives that seem to detract rather than add to the book's momentum.
The appearance of a minor character, Beth, in the last chapters, feels as contrived as a peeling paint chip glued onto a wall. And the hero's insistence that she stay with him is even more perplexing. Especially when juxtapositioned against his earlier decision to distance himself from the lead female character in order to spare her the danger he draws.
Also confusing are the loose ends at the story's conclusion. Some key goals are attained, but readers are left to wonder what happens to several primary characters. This is either another editing oversight, or a great cliffhanger to usher in a sequel.
Amazingly enough, in spite of these distressing lapses, Olsen shines. His power of description is beautiful. The concept of the story is fascinating. The main characters are instantly captivating and likeable. Glimpses of Ireland, Jerusalem, and France through the eyes of the characters are so vivid you feel you've been there. The conclusion of the story, at least for the main male character, is satisfying enough to induce tears. Especially for anyone who knows the ache of a longing unfulfilled.
Though more attention in the editorial department could have polished Olsen's shine to brilliance, this story is not a waste of reading time by any means and is definitely recommended.
Click here to buy The Assignment by Mark Andrew Olsen