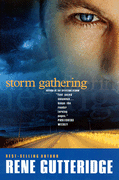 Storm Gathering by Rene Gutteridge reviewed by Kelli Standish
Reading a suspense novel by Rene Gutteridge is a little like boarding your favorite carnival ride. From the moment you begin, your heart is in your throat, your stomach is in knots, and you know you're in for an exhilarating, unforgettable experience.
Storm Gathering is no exception to this rule.
In this follow up to The Splitting Storm, Gutteridge takes readers back a few years in the life of lead character Mick Kline.
For die-hard, order-and-reason types like me, this regression in the story may have you wondering whether Storm Gathering is worth the read. After all, stories should move forward, right? But let me assure you, this is one book you don't want to miss, regardless of its chronological order.
In the first chapter of Storm Gathering, we meet a Mick Kline we haven't seen before. He's heartbroken, angry, and consistently drunk. His brother, Aaron, has proposed to the one girl Mick ever loved. And she has accepted.
To make matters worse, Mick has been laid off from his accounting job and is struggling to keep his other job as a part-time football coach.
He's lost, purposeless, and itching for a fight. So he starts one with his brother. Then he gets completely plastered at a local bar, goes home with a woman he meets there, and promptly passes out.
When Mick wakes up the next morning, facedown in the living room carpet of an empty apartment, he has no idea that he's in the worst trouble of his life.
The woman he came home with has disappeared. Blood and signs of a struggle indicate she's been kidnapped. Mick is the primary suspect. And that's just the beginning of his troubles!
Written in classic Gutteridge style, this book's plot will spin you around with as many twists and turns as the Octopus, and introduce you to characters even more unusual than your friendly carnival ride attendants.
Readers will be particularly intrigued by new character Shep Crawford, a man who has more than an old t-shirt concealed beneath his Detective's uniform. This guy breathes excerpts from Count of Monte Cristo, marks his possessions with blood, and is passionate about justice and needle-sharp pencils.
Readers will also enjoy the interaction of lead characters Mick, Aaron, and Jenny, and those who've read The Splitting Storm will find many of their backstory questions answered.
But be warned. In Storm Gathering, like The Splitting Storm, Gutteridge generates far more questions than answers, and you may find yourself pacing the pavement in front of your local Christian bookstore as you await Storm Surge, the conclusion to this gripping trilogy!
Click here to buy Storm Gathering by Rene Gutteridge