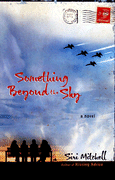 Something Beyond the Sky by Siri Mitchell reviewed by Melanie Dobson
In Siri Mitchell's latest novel, four U.S. Air Force officer's wives struggle to pursue their individual dreams while supporting their husbands' careers.
An unlikely set of friends, this group of four connects during their stint on a food committee. They quickly go beyond casual acquaintanceship as they inspire each other to love, forgive, and believe in something beyond the sky.
Each of the four women has a secret or fear that haunts them. A secret they must acknowledge before it harms their relationship with their family and with God.
And each woman wants something they can't seem to have:
Timid Karen Bannister wants babies. Lots of them. But after five years of marriage, it's still just her and her husband—a Mormon who's relying on his wife to provide them with a family.
Aeronautical engineer Beth Bennett wants peace and a little order. She resigned her U.S. Air Force commission to stay at home with their twin boys, and her world is out-of-control.
Athlete and aspiring professional Anne Bradley wants a job in a military town where employers hesitate to hire someone who'll move in a few years.
Sophisticated world traveler and socialite Rachel Hawthorne knows exactly what she wants for her life (and it's very different than that of her hotshot husband who loves the great outdoors).
God has another plan for all four of these women, and the journey their lives take through marriage, parenthood, friendship, and personal faith will leave them changed forever.
Siri's third novel is a detailed education on military life woven through entertaining slices of story. If you or your spouse are in the military, you're going to love this book. If you're not in the service, you'll almost wish you were.
This book really spoke to me, because although we're not in the military, my family has moved almost every year during the past seven years. Something Beyond the Sky reminded me that friendships with other women are critical as I struggle to settle in each new place, grow in faith, and wait to see where God will take us next.
Click here to buy Something Beyond the Sky by Siri Mitchell