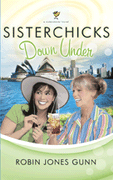 Sisterchicks Down Under by Robin Jones Gunn reviewed by Vennessa Ng
When Kathy Salernoís husband Tony accepts a job at a film studio in New Zealand, Kathyís orderly world becomes a state of confusion.
Already suffering from empty nest syndrome, Kathy now finds herself in the land down under where simple things take on a whole new meaning. Cheerios is no longer a breakfast cereal, but small red cocktail sausages. Bobís-your-uncle actually means something, gumboot tea really is a drink, and hokey pokey does not involve any foot movements.
Kathy spends her first two-weeks in a stint of self-pity before she finally pulls herself together and starts to take an interest in the people and country around her.
Her first venture out of the apartment finds her at the Chocolate Fish Cafe, where customers receive a chocolate fish for doing something well. A chocolate fish isnít the only prize Kathy finds at the Cafe; she also finds herself a sisterchick.
Jill Radovich, a fellow American in this topsy-turvy country, is actually from the same town as Kathy. A friendship is formed, life connections are made, and before long, Kathy and Jill are planning grand adventures that span New Zealandís two islands and Australia as well.
Sisterchicks Down Under was not only a light, humorous read. As a New Zealander, I also found it to be a bit of an eye-opener. You never quite know what visitors think of your country and its local idiosyncrasies, and it was interesting to see my homeland through someone elseís eyes.
Overall, Robin Jones Gunn did a good job of portraying our country and lifestyle, though there were some expressions in the book that had even me confused. Iíve lived in New Zealand all my life but have never even heard of gumboot tea! Gunn could also have benefited from checking the map a little closer when describing where Christchurch was situated in the South Island.
My only other disappointment was with the cover of the book. With only a third of the book set in Australia, I would have loved to see a New Zealand icon on the cover rather than the Sydney Opera House.
These small things aside, this is an enjoyable book. Those interested in a quirky read, which could also double as a delightful tour guide to my country, wonít be disappointed in Sisterchicks Down Under.
Still donít know what gumboot tea, chocolate fish, or hokey pokey are? Sorry, youíll have to read the story to find out!
Click here to buy Sisterchicks Down Under by Robin Jones Gunn