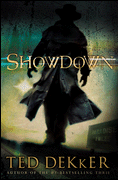 Showdown by Ted Dekker reviewed by FoF Guest Reviewer Eric Wilson
Showdown continues Ted Dekker's trend of breaking new ground in the Christian market. He pulls words from his toolbox, shaves and splices, crosses genres, and delivers a superb allegorical thriller.
This time, we find ourselves in the middle of a showdown--with allusions to Stephen King's Gunslinger novels and old-time spaghetti westerns. The cover gives the appropriate feel. The showdown, as one might expect, is between good and evil, and the players are the citizens of an out-of-the-way Colorado town called Paradise. When Marsuvees Black, an enigmatic preacher in a flowing dark trench coat, arrives in town, he turns things upside down and inside out (sometimes quite literally). Many are swayed by his abilities and charisma. Only one or two are willing to stand against his dark schemes.
Dekker, in his trademark manner, adds another layer of meaning by revealing a group of children hidden in a mountain monastery above the town. These children are part of Project Showdown, a secret experiment meant to determine the power that can be unleashed when children are kept safe from the ravages of a sin-torn world. If their faith is untainted, can they literally "move mountains"? As Paradise faces corruption, can their faith save the town? Even tucked away in the clefts, though, the monastery and its inhabitants are subject to their own free wills and their inclinations toward rebellion. As in the classic "Lord of the Flies," the story shows the folly of buying into the belief that humans are basically good.
Through a number of twists and turns, Dekker leads us to a final showdown that brings all the pieces together in a clear, biblical allegory. We do come to understand how many of the strange events are taking place...even if one explanation left me feeling as though I were reading a fictional story within a fictional story, thus diminishing the suspense to some degree. Nevertheless, Dekker is a great storyteller, and he wisely avoids the plodding, transparent methods of traditional allegory, choosing subtle and cutting edge ideas to convey his meaning. The prose is smooth and tight, the message on target, and the ideas daring. This is one showdown you won't want to miss.
Click here to pre-order Showdown by Ted Dekker