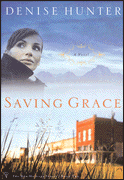 Saving Grace by Denise Hunter reviewed by Laura Domino
Natalie Coombs helps girls make difficult decisions every day. As the director of Hope Center—Jackson Hole, Wyoming's crisis pregnancy center—she fights against lies and misinformation provided to young girls by abortion advocates.
With the help of the ultrasound screening Natalie provides, nineteen-year-old Linn sees the image of her baby for the first time. It is then Linn realizes that a fetus is not just a mass of cells and tissue; it's a living baby.
Touched by the desperation in Linn's eyes, Natalie breaks the Hope Center's number one rule and becomes personally involved in Linn's life. But Natalie's desire to help Linn, though well-intentioned, has unexpected and devastating consequences.
Then dark secrets from Natalie's past, and the murderous agenda of someone in her present, force both women to make agonizing decisions that will affect their lives forever.
Denise Hunter lovingly gathers her readers and brings them to this difficult subject with great sensitivity and gentleness. Hunter's characters drew me in immediately with their honesty, their struggles, and their triumphs. As the author skillfully wove their lives together, I was able to see the many effects of abortion on a variety of people.
We make decisions everyday. However, some decisions are more difficult than others, and when we make the wrong one, sometimes there is more than one victim. Saving Grace helps us see those victims through the eyes of hope and presents us with much to consider about forgiveness, trust, and innocence.
A well-written book on a challenging subject. Fans of Kristen Heitzmann will find a new favorite in this up-and-coming author.
Click here to buy Saving Grace by Denise Hunter