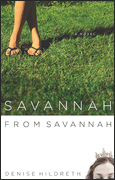 Savannah from Savannah by Denise Hildreth reviewed by Kelli Standish
Every once in awhile, you read a story that makes you want to throw open your door and race down the street, waving the book wildly in the air while shouting, "You must read this!" at the top of your lungs.
Savannah from Savannah is just such a book.
It's universally known that writing in first person is one of the hardest styles to master. First person point of view has rung the death knell for many an ambitious first-time author who just couldn't quite get it right.
But new fiction author Denise Hildreth doesn't just get it right in her 324 page debut, she masters it.
Savannah from Savannah is the story of 24-year-old Savannah Phillips, a recent college grad, winning fiction novel contestant, and the long-suffering and ever-traumatized daughter of Victoria Phillips—Savannah, Georgia's very own beauty queen and Chamber of Commerce prima donna.
When Savannah learns that her mother—who has more influence than she has Kate Spade shoes—rigged her win of the 'Fiction Achievement Award', she decides drastic meddling calls for drastic countermeasures.
She rejects the coveted publishing contract and returns to her hometown, to prove to her parents, her city, and herself, that she is someone who shouldn't be messed with. Someone who's someone, without her mother's assistance. Someone who can write an unforgettable story all by herself, thank you very much.
Her dirt-digging exposé of rigged beauty pageants leads her to hysterical conversations about food and family with best friend Paige, a multi-barbed verbal attack on a prominent newspaper editor who just might end up being her boss, a break-and-enter of a Jackson, Mississippi office building, and a search for one apartment in all of Georgia that's not owned, managed, or controlled by her mother.
Then there are the run-ins: with childhood sweetheart, Grant, who's marrying someone else, with stalker and bonafide beauty pageant groupie, Miss Amber Topaz Childers, who is not ashamed to sing opera anywhere, and with an irritating, curly-haired cutie of a co-worker named Josh.
Savannah's escapades in her grand quest for someonehood, had me in absolute knots. I haven't laughed so hard in ages, and certainly not while reading a book.
Besides its unparalleled humor, great plot, and far-too-real-to-be-fictional characters, this story presents a well-drawn picture of one young woman's coming of age, a number of spiritual insights that stay with you, and several thoughtful glimpses into the effects our choices have on the lives of others.
Bottom line: Savannah from Savannah is worth more than you'll pay for it, and Denise Hildreth is an author to watch in the coming years.
Click here to buy Savannah from Savannah by Denise Hildreth