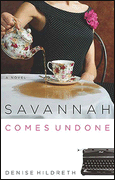 Savannah from Savannah by Denise Hildreth reviewed by Sara Mills
Savannah from Savannah has a mother you'd have to meet to believe. Victoria Phillips is a former beauty queen, and the head of the Savannah Chamber of Commerce. She already has a finger in everything that goes on in Georgia, and she holds the unofficial title, at least in the Phillips household, of Supreme Dictator for Life.
But in this poignant and humorous sophomore offering by chick lit author Denise Hildreth, Victoria takes on more than chamber of commerce meetings and street beautification committees. This time she's chained herself to a statue of the Ten Commandments, right in the middle of town square!
A humiliated Savannah, (the daughter, not the city), tries to avoid the publicity her mother draws, but it seems that everyone in town is talking about Victoria's crusade. And, as human interest column writer for the local paper, Savannah's stuck. Her mother, and the Ten Commandments, are the hottest story going, and she'll have to write this story whether she likes it or not.
The problem is, Savannah doesn't know how she feels about the statue, or her mother's protest, or the fact that her father and brother have been sucked into the maelstrom of publicity.
If things weren't complicated enough, Savannah's longtime boyfriend is getting married to someone else, and the opera-singing Amber Topaz Childers has just revealed some shocking personal secrets. Plus, Savannah keeps running into Joy--an elderly lady who frequents park benches, shares Savannah's food and spouts advice-- and then there's that annoying, curly-haired cutie, Josh, who shows up, and shows Savannah up, at the most unfortunate moments.
Through it all, Savannah continues the painful process of truly growing up, making lifelong friends and life-changing discoveries along the way.
The defining characteristic of both Savannah Comes Undone and Savannah from Savannah, and the reason they resonate with readers, is that they are so real. These stories don't gloss over the selfishness we all experience. They show, sometimes painfully, how we tend to take our family for granted, as well as the embarrassing things we do for the sake of pride.
Another characteristic in both books that has been life changing for me personally is Savannah's morning ritual of 'tilling the soil' of her heart. This simple act of devotion calls to something deep in me, and has challenged me to make seeking God daily a more integral part of my life.
Hildreth has succeeded in creating characters that are real, humorous, and imminently readable. Savannah from Savannah and Savannah Comes Undone have become the standards by which I judge all other chick lit novels, and I have yet to find any that compare.
I highly recommend both books, and applaud Denise Hildreth for bringing depth, class, and a delightful sparkle to Christian chick lit.
Click here to buy Savannah Comes Undone by Denise Hildreth