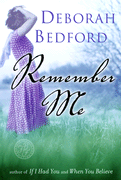 Remember Me by Deborah Bedford reviewed by Diana Urban
Young Sam Tibbits falls in love with Aubrey McCart while sitting in a storage box full of life jackets on a fishing trawler.
Through Sam and Aubrey's early teen years, their love continues to develop, blossoming during the week-long summer visits Sam's family makes to the Oregon coast.
Then Aubrey's family undergoes a crisis and she and her family disappear overnight. Sam's heart is broken, and he is set adrift on the sea of young adulthood with no answers to the loss of his closest friend.
Years later Sam still loves Aubrey. But now he's a single pastor facing crises of his own. His deacon board has lost faith in him, he's just been forced to perform a funeral for a man he begged God to heal, and his dreams for a church sponsored homeless shelter are meeting tremendous resistance.
Mary Grace, the spunky, single, colorful church secretary, provides him with strength and support, but then Sam's nephew makes a reckless decision that costs Sam dearly. Sam reaches his breaking point, spiritually, emotionally, and professionally.
Finally, realizing that time and distance may heal some of his wounds, Sam flees to Piddock Beach, the Oregon fishing town where he spent his summers as a child. He agrees to take his nephew, in hopes he can reconnect with the sullen teen.
Once there, Sam meets the last person he expected to see again—Aubrey. She too has returned to her hometown seeking balm for tremendous pain. Sam and Aubrey recover some of their old friendship, but they discover boundaries that did not exist when they were teenagers.
Will Sam be able to help his nephew overcome the devastation he has experienced? Can Sam and Aubrey come to terms with their rekindling relationship while finding the direction God intends them each to take?
Deborah Bedford does an outstanding job developing the characters in Remember Me. They're real people with real problems who face personal and spiritual crises.
We have all experienced times when God was silent, even when we begged Him for answers. And many of us have had times when we felt like running away as we faced pressures too great to bear. Bedford's characters experience these emotions in heartbreaking detail. Yet their spiritual journeys from doubt to strength and faith give us hope.
Anyone who has felt despair as deeply as Sam and Aubrey will find in their story a calm certainty that God holds us securely in the palm of His hand.
Click here to buy Remember Me by Deborah Bedford