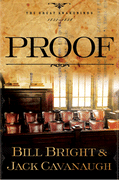 Proof by Bill Bright and Jack Cavanaugh reviewed by Sara Mills and excerpted by permission from www.christianfictionreviewer.com
Harrison Shaw is a poor young lawyer in New York about to get the opportunity of a lifetime.
Living in the great melting pot of immigration, poverty and wealth that made up New York in the late 1850's, the orphaned Shaw has already overcome staggering odds to become a lawyer.
When he's offered a clerkship with the most prestigious attorney in the city, it seems that Harrison is on his way up, about to leave the slums of Brooklyn for the mansions of Millionaire Row.
Eager to move forward, Harrison doesn't look for and doesn't see the strings attached to his new place in society. By the time he discovers the intricate pattern of the threads, he's caught in a web of favors, lies, bribery, vendettas and destruction.
His mentor, J.K. Jarves, sucks the life out of anyone who crosses him. When Harrison decides he can't be part of that predatory world, he himself becomes the prey.
Harrison Shaw's life and career are destroyed by his decision to walk away from J.K. Jarves, but he's not able to walk away from Victoria Jarves, J.K.'s daughter so easily. And so the battlelines of faith and love are drawn.
This book is the first in a series set during the time of the Great Revival of the 1850's. I love this setting. The Great American Revivals, with D.L. Moody and Charles Finney and the Great Chicago Fire are proof; Proof that no matter how evil the times, no matter how corrupt the society, the Holy Spirit is able to light a fire in the hearts of people and transform a whole nation.
This book was seamless and absorbing. I finished it in one evening, and when I put it down, all I said was, "Wow."
The Great Revival started with six men and a lunch time prayer meeting. It turned into a movement where tens of thousands repented and surrendered their lives to the Lord. If that isn't inspiration for you, I don't know what is.
I loved the story, I loved the setting, but most of all I loved the reminder. The reminder that God uses small people to accomplish huge things. All he asks for is trust and faith. He does the rest.
Click here to buy Proof by Bill Bright and Jack Cavanaugh