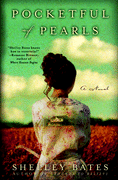 Pocketful of Pearls by Shelley Bates reviewed by Sara Mills
Have you ever wondered what it would be like to see your family objectively? To see what your rituals, prejudices, and principles look like to someone else?
In Pocketful of Pearls, Dinah Traynell gets this chance, and the results are excruciating and liberating all at once.
Dinah was born into an cult. The Elect, a strict community of "believers", are convinced that they are the chosen ones. They believe God favors them because of their devoutness, their piety and their willingness to go along with whatever the leaders of the Elect, like Pastor Phinehas, demand.
Each act of service, no matter how repugnant or distasteful is offered up as a sacrifice in the hopes of getting them closer to Heaven. A rebellion from the "way" leads to harsh punishment and merciless rebuke.
So when a stranger arrives at Dinah's back door, asking if she can spare a bit of food, Dinah knows better than to say yes. Still, something about the man's haggard demeanor pulls at her heart. One plate of food becomes two, and then three, and Dinah begins to cross the boundaries of her constrictive world.
The hungry traveler turns out to be Dr. Matthew Nicholas, a professor on sabbatical who, due to a number of unfortunate events, is down on his luck. He never intends to stay on Dinah's farm, but as he realizes the danger of her situation, he feels compelled to care for her. He accepts a job as her hired hand, but soon takes on the additional duties of being her personal body guard.
With Matthew's help, Dinah begins to see her world is closer to Hell than it is to Heaven, and for the first time, she tries to resist the monstrous effects of the Elect on her family.
This story was horrifying and compelling. Many times throughout the book, I felt the hairs on the back of my neck stand up. I was sucked into the vortex of the story and, to be honest, it left me a little shaken.
This novel, a continuation of Bates' RITA Award winning Grounds to Believe, was beautifully written and profound. I'll be waiting for book three, A Sounding Brass, which is scheduled for release in August 2006.
An insightful look at a disturbing, real issue. This book is highly recommended.
Click here to buy Pocketful of Pearls by Shelley Bates