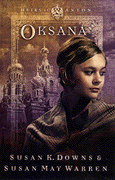 Oksana by Susan K. Downs & Susan May Warren reviewed by Vennessa Ng
The publishers of the Heirs of Anton books have chosen a unique approach with this series by releasing the books in reverse date order. But the order doesnít diminish from our enjoyment of each story, and this final book in the series had me captivated from start to finish.
By the time we get to Oksana, we know that the heirs of Anton Klassen are somehow tied into the Romanov family. The question that remains is how and why?
And so our story begins. Itís early 1917, and the Russian Revolution is spreading like a dark cloud over Eastern Europe.
On hearing news of chaos in Petrograd, Mennonite Anton Klassen journeys from his Molotschna Colony to the city where his familyís harness factory is situated. But before he can reach his destination, his life takes an unexpected turn.
Antonís train comes to a standstill in the middle of the Pskov countryside, and Anton disembarks to stretch his legs in the woods. He spots a lantern zigzagging through the trees, and, fearing someone is lost in the forest, goes to investigate.
The someone Anton finds pacing amongst the trees is no lost citizen but the Tsar Romanov, leader of Imperial Russia and head of the Orthodox Church. The Tsar informs Anton that he has abdicated his throne, and, learning that Anton is a Mennonite, he asks him to take on a mission of utmost importance.
Before Anton re-boards train, the Tsar instructs him to find a monk named Timofea who will go with him to the royal home. Once there, they are to rescue Timofeaís sister, Yulia, and an orphaned chambermaid, Oksana. The Tsar gives Anton the Crest of St. Basil the Blessed as proof of his authority for the mission, and appoints him guardian of it until he sends for him.
Little does Anton know that the chambermaid, Oksana, is no ordinary servant, but in fact the Tsarís oldest daughter, Grand Duchess Olga Nikolaeva Romanova, who is not only recovering from the measles, but also hides the family jewels in her clothing.
Together with Timofea, Anton takes the women to Petrograd and hides them in the home of a trusted factory employee. But after Antonís employees go missing, and someone looking for Oksana attacks Yulia, both men realize how dangerous the situation is.
Anton and Timofea decide itís time to split up. In order to keep Oksana safe, and unaware of her true identity, Anton marries her, and takes her back to his Molotshna Colony, and his dysfunctional family.
As the months pass, Anton and Oksana begin to acknowledge their true feelings for one another. Then, just when it seems they are safe, they find themselves running for their lives again. Anton realizes the only way to keep Oksana alive is to separate, and to hide her in the one place no one would think to look.
Oksana is a fascinating look at the assassinated Royal House of Romanov and the question: what would have happened if one of them had escaped?
Susan K. Downs and Susan May Warren draw from their personal knowledge of Russiaís extensive history to give us a rich story with characters we truly care about. The plot keeps us turning the pages and the timeless message that Godís faithfulness continues through all generations shines from beginning to end. A recommended and enjoyable conclusion to this interesting series!
Click here to buy Oksana by Susan K. Downs and Susan May Warren