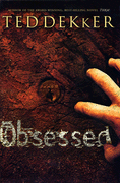 Obsessed by Ted Dekker reviewed by Vennessa Ng
Do you obsess?
If you didn't have obsessive tendencies before reading this book, you will by the time you finish!
Realtor Stephen Friedman is set on his next potential slice of paradise, happy to forget his Jewish history and get on with life.
Roth Braun is set on regaining the power his father lost to a Jew decades before in a Nazi concentration camp.
When a rich Jewish woman dies and leaves a priceless Stone of David to the Museum, Stephen's life suddenly turns upside down, and the past he'd put behind him spirals him out of control. After learning that the dead woman was his mother and that more Stones of David could be hidden in her house, he becomes obsessed with regaining his inheritance.
Roth Braun is also determined to claim the Stones, but for a different reason.
Stephen and Roth go head to head in this amazing fast paced, highly emotive, and often hilarious, story.
Dekker spins a tale that entwines two storylines, bringing them to a compelling finale. Allow yourselves to be pulled back in time to Nazi Germany, where you will once more face the plight of the Jewish concentration camps. These dark, and sometimes hard to read, segments are twisted between chapters set in the 1970's where Stephen and Roth attempt to outwit each other. Stephen's antics are at times hilarious and bring wonderful comic relief to the story.
Obsessed is a well-paced and intriguing tale that will keep you reading late into the night. The only low point for me was one plot element near the start that I found a little hard to accept, but this was easily overlooked.
The characters were well written and I was drawn into their plight, silently cheering them on. Roth was ... well, evil. Dekker does a great job of creating antagonists that are easily despised.
This is another keeper for your Dekker library.
Click here to buy Obsessed by Ted Dekker