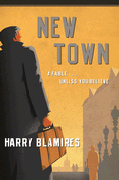 New Town by Harry Blamires reviewed by Mick Silva
When forty-year old Bernard Dayman falls into a coma, he finds himself on a street in a quasi-British principality called Old Hertham. Shortly after his arrival, Bernard learns that Old Hertham is condemned to be destroyed and he will need to apply for a home in the "New Town," the bright new city connected to Old Hertham by a suspended bridge.
It seems everyone has an opinion about New Town, including Bernard's former love interest, who he meets in this dream world. Though some prefer to fight for their decaying homes, many in Old Hertham want a home in the New Town. Unfortunately, the waiting list is long—volumes and volumes. Bernard will have to spend the rest of his time learning about waiting and sustaining his anticipation for entry into the New Town.
New Town should not be read as modern American fiction, but rather a metaphorical tale constructed from a particular theology of heaven. Harry Blamires was a friend and protégé of C. S. Lewis, so it's no surprise that his allegory is akin to Hind's Feet on High Places and Pilgrim's Progress. People who appreciated the rich metaphorical imagery of those stories will probably enjoy walking the streets in Blamires' New Town.
Beyond the obvious parallels to Christian theology, readers may have a difficult time caring for the hero and his fact-gathering about New Town. There is meaning and depth here; that's immediately evident. But there are no momentous events, no peril. I felt no particular interest in what the characters said or did. I wanted a reason to care for Bernard's fate, to share in this desire for New Town, but instead I kept thinking that fantasizing about Heaven should be more intriguing.
Instead, New Town seemed to me to be a theological treatise filtered through fiction.
There's no doubt some of the metaphors are interesting, no doubt many more exist than I was willing to find. My problem was that the story did not interest me enough to warrant a deeper search. By page twenty-five, I found myself wishing for a nice thriller.
Blamires has accomplished much in communicating our hope of heaven through a new romantic vision. But in appreciating the allegory, I wasn't content to suspend my desire for intriguing fiction, and it's on this latter count I find New Town disappointing.
Click here to buy New Town by Harry Blamires