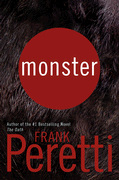 Monster by Frank Peretti reviewed by Vennessa Ng and Cheryl Russell
"There are things out there you've never seen, never felt, things you need to experience," Reed Shelton tells his wife, Beck, as he leads her into the woods for a week of survival skills.
But the test of survival that awaits them is beyond anything Reed imagines.
The husband and wife trek to a remote mountain campsite to rendezvous with their guide, only to find the cabin destroyed and their guide missing. Determined not to let this ruin their survival week, Reed decides they should camp for the night and wait for their friends' arrival the next day.
More than stars come out as night blankets the forest. Terrifying wails, snaps and thumps soon echo around them. Something is out there. Watching. Waiting. Reed and Beck flee for their lives. Then the unspeakable happens. A foul smelling creature carries Beck away.
Friends and local townsfolk join Reed in a hunt that uncovers a trail of victims. It soon becomes apparent that they aren't the only ones doing the hunting. Exactly who, or what, is hunting whom?
As the search for Beck continues, some are convinced she was mauled by a bear. DNA evidence says no. But the makeup of this particular DNA is unknown. Was her kidnapper really a monster? Or are other forces at play here; ones with enough money and power to silence those that get too close to their secret?
Peretti had us hooked from page one, and kept us hooked through the remaining 418 pages of this enjoyable, fast-paced thriller about things that go bump in the night.
The only distractions in the story were several point of view inconsistencies, a few misspelled words, a slight lack of depth in the lead human characters, and an apparent name mix up early on.
For old and new fans alike, Monster won't disappoint. A must read – but save this book for daylight hours… and wait until after you get home from your family camping trip!
Click here to buy Monster by Frank Peretti