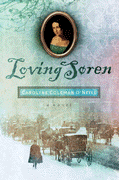 Loving Soren by Caroline Coleman O'Neill reviewed by Kelli Standish
New author Caroline Coleman O'Neill weaves a skillful and at times disturbing tale of passion, obsession, and the triumph of true love in this debut novel based on the true story of Danish philosopher Søren Kierkegaard and Regina Olsen.
Fifteen-year-old Regina Olsen, a dark-eyed Danish beauty on the verge of womanhood, is imaginative, compassionate, and wistfully in love with Fritz Schlegel, her handsome former history teacher.
Then Søren Kierkegaard storms into a sitting room—where Regina and her friends are having tea—and begins a passionate diatribe about the evils of marriage and temporal pursuits.
Those in the sitting room, and many others in Regina's society, are scandalized by Søren's behavior. Regina finds him both arrogant and fascinating.
Over the next several years, Søren befriends Fritz Schlegel, and the two become frequent visitors in Regina's home. At first, Regina is delighted by Fritz's affection; then she is alternately enraged and enticed by Soren's calculated, uncensored behavior.
Still, Søren pleases The Councilor, Regina's clinically depressed, finance minister father. And so he is welcomed back again and again.
But no one, not The Councilor, or the loyal, pure-hearted Fritz, or the innocent but willful Regina, has any idea of the heartache Soren's clever seduction will bring them.
As a former domestic violence and abuse counselor, I found Søren's behavior understandable… and absolutely chilling. His bouts of madness and mania, combined with his extreme intellect and ability to manipulate and control, made him one of the most sympathetic but alarming characters I've encountered in a novel.
Regina's innocence is undermined by her longing for power and her headstrong nature. She genuinely wants to serve God, and to comfort and console, but she also wants her way, which makes her the perfect target for Søren's machinations.
O'Neill does an great job of drawing us into the emotions of the story, and her eye for detail and commitment to historical accuracy is impressive.
A few over-descriptive sentences such as, "the whiteness of her dress…echoed the pale luminescence of her moonlight colored skin." slow the pace in the first chapter, but the book moves well from that point on and concludes in a manner I found moving and rewarding.
Historical and contemporary fiction lovers alike will find much to enjoy in this thought-provoking novel.
Click here to buy Loving Soren by Caroline Coleman O'Neill