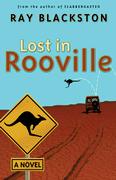 Lost in Rooville by Ray Blackston reviewed by Cheryl Russell
Jay Jarvis arrives in a wild land with an engagement ring tucked in his luggage, and high hopes. By the time he finishes his vacation, he's deeply in debt and lucky to be alive.
In this third installment in Blackston's Flabbergasted trilogy, Jay, the former-stockbroker-turned-missionary, travels to Australia for an exotic vacation. Accompanying him is his girlfriend, Allie Kyle, his best friend, Steve Cole, and Allie's lime-green-loving soul sister, Darcy Yeager.
Jay is only a day into his romantic trip 'down under' when he makes an unpleasant discovery: Steve had the same plan for this vacation, and packed an engagement ring to present to his own sweetheart during the trip.
So who proposes second and looks like a copycat?
Not to be deterred, Jay and Steve come up with a plan. They will trek in different directions with their beloveds, without raising the girls' suspicions. Each man will have a limited time to carry out his plan, and the couples will rendezvous later at a predetermined location.
All goes well until Jay and Allie find themselves stranded in the outback with little food or water, a jeep the color of the red dirt that surrounds them, and no way to let anyone know where they are.
Lost in Rooville grows up a bit from Blackston's previous tales. While the humor found in his earlier books is still present in this one, Lost takes a more serious turn. When two main characters are placed in a life and death situation, Blackston explores the temptations and fears they face with enough gravity to make the situation realistic, and enough wit to make even their traumatic dialogue hilarious.
Only readers of Flabbergasted and A Delirious Summer will understand the full significance of this book's ending. But even if you haven't read the previous books, Lost in Rooville is still a quick, enjoyable read.
Click here to buy Lost in Rooville by Ray Blackston