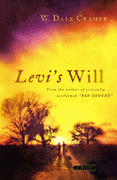 Leviís Will by W. Dale Cramer reviewed by Dennis Standish
Its 1943 and World War II is in full swing. Almost every young American man has been drafted into military service. But not Will Mullet, or any of his friends. Will is Amish, Old Order Amish, and they donít believe in fighting.
Fightingís not the only thing they donít believe in, and when Will makes a choice that causes his banishment from the church, his life is changed forever.
Unable to cope with the churchís oppressive beliefs, or his fatherís unrelenting judgment, Will runs away from home and all he knows. Well aware that he will never be welcomed home again, Will signs up to fight in the war, and begins a series of choices that weave an ever widening blanket of deception over his life.
Years later, Will longs to see his stepmother, brothers, sisters again, but even more he longs to seek forgiveness from his father, Levi. Surely his father will be glad to see him. Surely even Levi Mullet canít stay angry forever.
The sweet homecoming Will hopes for turns bitter when he finds out that his father thought he was dead...and would prefer that he was. The fattened calf is not killed. The prodigal is not welcomed. And Willís yoke of guilt and pain grows heavier.
Will does all he knows to gain forgiveness and acceptance from his father, not realizing he is destroying his own family in the process. Only when Willís youngest sonís life is in terrible danger does Will begin to see Godís way of forgiveness.
Leviís Will is an incredible, down to earth, real-life book. Loosely based on a true story, this book is a amazing mix of the hard realities of life and the power of a living God. There is no pretense in this book. It is straightforward and real.
I am the type of person who would rather read a fast-paced action book over the story of a personís life and struggles, but I found myself reading Leviís Will into the late hours of the night, unable to pull myself away from the compelling reality of this story.
This is a book many can relate to and find encouragement from, and I highly recommend it.
Click here to buy Leviís Will by W. Dale Cramer