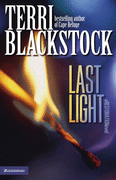 Last Light by Terri Blackstock reviewed by BackStory Columnist Randall Murphree
Turn out the lights, the party's over!
Your world is suddenly dark and dangerous, powerless and primitive. There's no electric power. None. Anywhere. Your car won't start. Nor will your cell phone work. The region is in total blackout. Hospital equipment fails. Airplanes crash. Law enforcement is practically non-existent. Store shelves are empty. Looters reign. You can't get your money out of the bank.
Oh, and there's that little thing about the murders in your upper-class neighborhood. This ominous setting is from Last Light, Terri Blackstock's latest suspense thriller. Could such an event happen? The author says it could. As usual, she's done her homework, consulting physicist and fellow novelist Randy Ingermanson for details. And what cataclismic event in Blackstock's story required details from a physicist? For that answer you'll have to read the book, or perhaps the entire series.
Last Light's Doug and Kay Branning are typical parents – church, school, community and work. Now, they must grapple with walking everywhere they go; carrying buckets of water from the lake for laundry, bathing and cooking; and staring at empty pantries.
As if that weren't enough, the Branning kids are a mess. Deni, 22, and nine-year-old Beth discover the first two murder victims. Beth is in shock, 16-year-old Jeff rebels against parental controls, and Deni acts like a spoiled brat because she can't reach her Washington, D.C., fiancé. Consequently, the Brannings battle stress and fear not only from the outside, but also in the family.
"In all my books, I try to put ordinary people in jeopardy," Blackstock says. "I thought it would be fascinating to portray this upper middle class Christian family who suddenly has no money, no car, no phones, no electricity, no food or water."
The themes of sharing and sacrifice arise naturally. The author said she hopes readers will be reminded of how God may use difficulties and disasters to refine us and make us stronger.
"Sometimes, we find ourselves in the middle of a disaster like Katrina," Blackstock said, "and if we're strong enough in our faith, we can see that we were included so that we would be in place to help others. Since the book is also a murder mystery, I hope readers will see that when we step outside of God's will, as Deni does in the book, we're bringing even more trouble on ourselves, but that God is faithful."
The faithfulness of God shines through every page of this story, reminding us where to look for true light when every other light in our lives has gone out. Another timely book by Terri Blackstock!
Click here to buy Last Light by Terri Blackstock