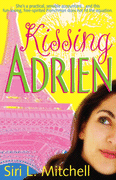 Kissing Adrien by Siri Mitchell reviewed by Mick Silva
In Kissing Adrien, new romantic fiction author, Siri Mitchell, demonstrates one of the clearest, most original voices of any debut novel I've read. Period. Her deft hand, skillfully wrapping serious subjects and vibrant, mature characters into the story, leaves one hopeful that her next books will continue the amazing promise put forth here. By all measures, I'd expect exciting things from this new master of "restrained romance" in the next few years.
All Claire Le Noyer wanted was everything. The perfect job, the perfect husband, the perfect life. Unfortunately, her candidate for Perfect Husband won't commit. So when a long lost relative bequeaths an apartment to Claire's parents, and Claire travels to Paris to oversee its sale, she hopes her trip will cultivate that fondness absence is supposed to bring.
From the moment Claire meets Adrien at the airport, she begins to realize just how different life in France might turn out to be. It's been years since she's seen her childhood friend, and Adrien is not only as impulsive, intelligent, and dashing as he ever was, he's also become obnoxiously handsome. Most maddening, from the outset, he seems bent on challenging her comfortable American sensibilities with his French "joie de vivre."
When unexpected renovations to the apartment force Claire to extend her stay, Adrien seizes his chance to encourage renovations in Claire's conventional sensibilities. As the intricacies of French life systematically begin to dismantle every sacred anachronism she holds dear—church, politics, alcohol, sex, fashion, food—Claire is confronted with the intrusiveness of beauty, the diversity of worship, and the blossoming joy of deepening faith. Awakened to the possibilities, she now must answer the sincerity in Adrien's eyes, and consider what lies beyond the comfortable boundaries she's always known.
Kissing Adrien is a French excursion into nuance, pleasure, and experience. Board a plane and prepare to leave the North American Christian mindset. This book is a ticket to the pleasure of living, an adventure you'll be pondering for weeks to come.
Click here to buy Kissing Adrien by Siri Mitchell