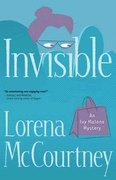 Invisible by Lorena McCourtney reviewed by Kelli Standish
"I'll just read the first few pages."
Or so I thought as I began Chapter One of Invisible at 11:30 PM on a Tuesday night. But I hadn't figured the heroine-spunky Ivy Malone-or her humor-laced story, into my plans.
Four hours later, I was reading the last lines of the book through gritty, but determined eyes, wishing very much that I could claim Ivy Malone as my grandmother, or at least my next-door neighbor.
To say this book is delightful is hardly sufficient. Written from a first person point of view, which is a different voice from McCourtney's past offerings, Invisible is an absolute triumph. Wit and wisdom, pathos and perseverance, and downright eccentricity flow from Ivy's first vision of Nixon in her tomato patch, to her race with flying bullets, really bad bad guys, and the Hound of the Baskervilles in a grungy auto wrecking yard.
And while the tone of the story is humorous from start to finish, a number of deep questions are also addressed. Questions about the goodness and reality of God in the face of death, loss, and injury. Questions about what's right and what's wrong when justice must be served. Questions about where and how to belong in a world that seems to have forgotten you, or perhaps never noticed you in the first place.
In Ivy Malone, readers will find a combination of wacky humor, endearing stubbornness, and unconventional sincerity. In Ivy's story, readers will slink through torn up gravesites, take a dive inside a murdered woman's closet, and watch the stars with a cute guy named Mac. And that's just the beginning! Invisible is a wild and highly entertaining ride from the first chapter to the last word.
I can't wait for the release of the sequel, In Plain Sight, where I'm sure Ivy, and her big white Thunderbird, will cruise into more mayhem, mischief, and maybe even some good old fashioned romance.
Ivy, you go girl:)
Click here to buy Invisible by Lorena McCourtney