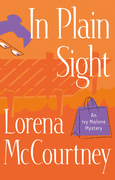 In Plain Sight by Lorena McCourtney reviewed by Kelli Standish
Our favorite LOL (Little Old Lady) is back, and this time, she's in more trouble than ever!
Ivy Malone may be "possum haired" and diminutive, but she's nobody's fool. So when the vengeful Braxtons torch her house and vow to do serious damage to her body parts, Ivy packs her trusty white Thunderbird and prepares for escape.
She steals away from her Missouri hometown to a nearly deserted family home, hidden on the wooded shores of Little Tom Lake, Arkansas. But putting a full state between herself and the Braxtons may not be enough. And then there's all the trouble she gets into on her arrival!
In short order, Ivy becomes temporary guardian of a lovable but very active teenager, takes a job as a housekeeper for an icy and mysterious recluse, and tries to unravel the identity of a man who might be a stalker, a hit man, or worse.
All this is complicated by the arrival of not one but two of Ivy's love interests from the past, and a scar-faced police sergeant who is determined to match Ivy up with his elderly father, or just arrest her for her interfering ways!
In Plain Sight is packed with hilarious escapades and delightful nuggets of wisdom, plus new characters that will keep you reading (and laughing) for hours. But beware. In the midst of these lovable characters is at least one calculating murderer, and Ivy's mutant curiosity gene, along with her newfound love of mystery novels, will put her directly in this criminal's path.
She'll need all her wit and invisibility to evade the killer's breath-stealing clutches, solve a gruesome murder, escape an explosive attack by the Braxtons, and survive life with a teenager.
Can she do it? There's only one way to find out.
Click here to buy In Plain Sight by Lorena McCourtney today!