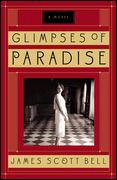 Glimpses of Paradise by James Scott Bell reviewed by Sara Mills and excerpted by permission from www.christianfictionreviewer.com
Set in 1920's Hollywood, this novel sparkles bright as the sequins on a flapperís dress.
Zee Miller and Doyle Lawrence grow up together in the same small dusty town. They gravitate to each other because they are both slightly out of step with the world around them. Zee is the daughter of a strict preacher, and she dreams of being an actress in Hollywood. Doyle comes from a wealthy family and his future as a lawyer in his fatherís practice is all mapped out for him.
They both leave their town just as soon as they can and go their separate ways. Doyle goes to college, but drops out to fight in WWI and Zee hops a train for Hollywood, but not before leaving behind her naivetť and her innocence.
I said at the beginning of this review that the story sparkled, and it does in many ways.
The setting was wonderful, I loved reading about the time period and the tone felt more like living in a black and white movie than attending a history lecture. The story was interesting and the characters were vivid, flawed and lovely, but most of all I loved the writing.
Bell captured me from the first page and even though I didnít have time to start reading a new novel, I couldnít help myself.
For fans of James Scott Bellís earlier work, Kit Shannon makes a cameo in this book. Kit Shannon is the main character (a female lawyer in the 1920's) of the authorís Trials of Kit Shannon series.
This book is the best Iíve read to date from James Scott Bell. Heís got a lot to live up to in his next story, no matter what time period he chooses. Iím impressed.
Click here to buy Glimpses of Paradise by James Scott Bell