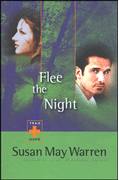 Flee the Night by Susan May Warren reviewed by Kelli Standish
What if there was such a thing as a story restaurant? A place where you could custom order all your favorite story elements—romance, danger, international intrigue, a dashing hero, and spunky heroine—and receive them, served with class, between the covers of the ideal book?
If such a restaurant existed, Flee the Night by Susan May Warren would be the outcome of my order.
Ex-CIA operative Lacey Montgomery is a murderer and a thief, and former Green Beret, Jim Micah, is determined to bring her to justice if it's the last thing he does.
First she walked off with his heart. Then she assassinated her husband, who was his best friend, and then she stole national secrets, jeopardizing the country he swore to protect.
All three are unforgivable; all three make her his enemy.
But not all is as it seems, and Lacey Montgomery is in a race against time. As she and her daughter flee from a hired killer, they are involved in a terrifying train wreck that leaves Lacey hospitalized and her daughter missing.
Then Lacey learns that she is under arrest for killing an undercover agent on the train, and that her daughter has been kidnapped by a man determined to destroy her.
In that moment, Lacey has only one place to turn: Jim Micah.
Will Lacey's appeal to their former friendship, a friendship eroded by years of mistrust and unspoken pain, be enough to convince Jim of her sincerity? And can they endure extreme danger---and each other---long enough to learn the real truth behind what they've been told?
Flee the Night is a well-crafted story of love lost and love found, of the darkness in life that threatens to eclipse us, and the triumph of God's grace available to all who surrender their heartbreak and their failures to Him.
A recommended read.
Click here to buy Flee the Night by Susan May Warren