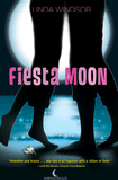 Fiesta Moon by Linda Windsor reviewed by Vennessa Ng
Warning: This book contains a laugh a minute!
I knew from the first few pages that I would love this book. Drawn by Linda Windsor's beautiful writing, clever wit, and engaging characters, it didn't take long to devour Fiesta Moon. I hadn't read the first of the Moonstuck Series, Paper Moon, but it wasn't necessary and it didn't stop me enjoying this book immensely.
Fiesta Moon follows Mark Madison into what he dubs the Twilight Zone. When convicted of a DUI, his brother, Blaine, bails him out and hands him a Get-out-of-jail-free card in the form of a building project in Mexico. Arriving was just the start of his problems – when a piglet seemingly adopts him.
For Corinne Diaz it was a 'God thing' that she found herself in Mexicali helping at the orphanage. But then Mark arrives. Memories of their last meeting fill her with trepidation when she realizes he is in charge of rebuilding her beloved orphanage.
According to Doña Violeta, the town's wealthy patroness, a fiesta moon is any that stirs the heart. But Mark soon discovers that stirring Corinne's heart isn't going to be as easy as winning over a piglet. Corinne doesn't believe in second chances.
A murdered child, ghostly sightings, and Aztec voodoo, all interwoven through this love story, make this a compelling read.
For those in need of romance and humor … get moonstruck!
Click here to buy Fiesta Moon by Linda Windsor