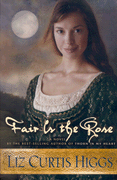 Fair Is the Rose by Liz Curtis Higgs reviewed by Diana Urban
**A word of warning: if you have not yet read book one, Thorn in My Heart, this review contains some spoilers**
As promised, I'm back with a review of Liz Curtis Higgs's second Scottish historical fiction book, Fair Is the Rose. I took this book with me on a cruise, and read nearly non-stop. Book two delivers on the promises made in book one, but leaves unanswered questions for book three, Whence Came a Prince.
If you like historical fiction, you'll love this series. If you're not a historical fiction reader, this may very well be the series that herds your heart into the sheepfold. Jaime, Leana, and Rose once again draw us into eighteenth century Scotland. So much so that I almost felt like a guest in their home. Not welcomed by Lachlan, of course, who would have considered me yet another unproductive mouth to feed.
The book opens with Rose spying on Jaime and Leana as they share a few private moments after the birth of their son. Jaime apologizes to Leana for spending their brief marriage ignoring her and wooing Rose, whom he anticipated marrying at some point. Leana forgives him, crushing Rose's hope that she can still marry Jaime.
As time passes, Jaime grows to love Leana, and he dotes on his son. Rose moves away to attend finishing school and escape watching the relationship that torments her at every turn. Just when all three finally accept their new roles, a tragic clerical error tears apart their well-ordered lives. Jaime despises the wrong he must commit to repair the error. Rose's fondest hopes are met and exceeded; while Leana suffers one of the cruelest punishments a mother could be forced to endure.
My heart ached for Jaime, Leana, and Rose as they sought God while making seemingly impossible choices. Once again, they gave me a glimpse of the struggles Jacob, Leah, and Rachel must have gone through when faced with similar circumstances. Fair is the Rose reminds us that, as always, God will give us the strength to endure the tests He puts before us.
Stay tuned for a review of Whence Came a Prince, Liz Curtis Higgs' stunning third book in this series.
Click here to buy Fair is the Rose by Liz Curtis Higgs