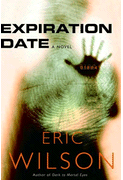 Expiration Date by Eric Wilson reviewed by Vennessa Ng
People are about to die, and Clay Ryker knows when.
Clay returns to his hometown after a decade away, running from both a failed marriage and failed business.
But Junction City doesn't provide him with the peace he desperately needs. Instead, he's empowered by a gift he doesn't want. Through the simple act of touch, he can read a person's expiration date … the date they will die.
Strange notes alluding to a dark secret in his past begin to arrive and townsfolk start dying. But are the deaths accidents as they first appear, or is there something more sinister behind them?
Can Clay overcome the burden of knowing when those closest to him will die? Will he conquer his own struggles and win the race against time to save as many lives around him as possible?
Eric Wilson had me hooked from the start with this fast paced suspense novel. Just when I thought I had it all worked out, Wilson threw in another twist.
When asked about his reason for writing his current series of books based on the five senses, Wilson says: "Each book follows one of the five senses opened in a supernatural way. We live in a physical world that numbs our senses to the spiritual. I wanted to merge the two worlds in a thought-provoking way."
And merge them he does! Thought-provoking? Absolutely! I dare you to come away from reading this book without it impacting you or opening your senses to God's hidden workings.
Although Wilson's books are connected through tie-ins and recurring characters, they are designed as standalone novels, and it is not necessary to read his first, Dark to Mortal Eyes, before reading Expiration Date.
If his first two books are any indication, Eric Wilson is truly an author to watch. He masterfully blends unforgettable characters and plots, and even his subplots are riveting.
Expiration Date is a novel you don't want to miss.
Click here to buy Expiration Date by Eric Wilson