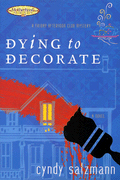 Dying to Decorate by Cyndy Salzmann reviewed by Diana Urban
Liz Harris and her friends, Jessie, Marina, Mary Ann, Kelly, and Lucy, initially form the Friday Afternoon Club (FAC) to keep "the hateful hag" that resides in each of them in check. They begin with no agenda or projects, just the goal of "girl time" to "relax, recharge, and reconnect at the end of a long week."
But as the years roll by, and the women go through various crises, the club becomes a vital force in each of their lives.
When Lucy loses her husband to a freak accident and her mother dies soon afterward, she goes into a tailspin. Her once-strong faith in God weakens, and she falls into depression. So the FAC decides it's time for a weekend trip to lift her spirits and help her renovate the Civil-war era house she inherited from her mother.
The women are prepared for leaky pipes and rotted wood, but when they find a hidden prison room behind one of the old house walls, they get more than they bargained for.
Lucy's aunt gives her a journal found in the house years earlier, and the FAC members are soon reading it aloud between bouts of redecorating. The journal unravels the house's mystery, and brings a new realization of God's love to each of the women.
Cyndy Salzmann's debut novel is a light, enjoyable read that includes scrumptious-sounding recipes the members of the FAC prepare for each other during the story. The book provides surprising food for thought about civil disobedience. Nice interjections from the old journal, Liz's regular narrative, and Liz's newspaper column all contribute to the richness of the tale. Liz's metamorphosis from "super woman" to "real woman" in her newspaper column made me realize it's okay to be who I am, and not pretend to be super woman, as I am wont to do.
That said, I did encounter a few challenges with this book.
First, after an opening chapter that had me laughing so hard I had tears in my eyes, the remainder of the book just didn't deliver at the same level. Salzmann has the potential to write a screamingly funny novel, as evidenced by Dying to Decorate's first few pages. I'd love to see her tap into her superb sense of humor consistently in her next book.
Second, Marina and her helper start tearing out kitchen cabinets right away, in the belief that these cabinets concealed a secret room. This unexplained leap of logic had me wondering how they could have known exactly where to search, for a room they didn't know existed.
These issues aside, I enjoyed this book and look forward to the next installment of the FAC.
Click here to buy Dying to Decorate by Cyndy Salzmann