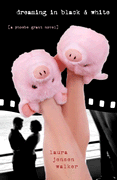 Dreaming in Black and White by Laura Jensen Walker reviewed by Diana Urban
Phoebe Grant is a not-so-young, single journalist who, after finishing her stint in the Air Force, lands a job at a daily newspaper in Cleveland, Ohio. Then big-city newspaper mogul Alex Spencer buys the Cleveland daily, and Phoebe finds herself out of a job.
With nowhere else to go, Phoebe-the-unemployed is forced to return to her hometown of Barley, California. A town she hoped never to see again.
Phoebe rediscovers her love for classic movies upon her return to Barley, and tries to save Barley's soon-to-be demolished Bijou Movie Theater. But her black and white world is disrupted when the infuriating and attractive Alex shows up again, this time on her turf.
Phoebe is convinced he's up to no good, and is determined to warn the town of his corporate raider tactics. But humorous events conspire to keep her from her anti-Alex mission, and Alex has a few surprises of his own up his sleeve.
Dreaming In Black & White is the first chick lit book I've read, and I loved it! Walker's clean, first-person writing and descriptions of the mysterious Alex pulled me in to the story immediately. I often found myself chuckling aloud.
Phoebe embodies the unspoken thoughts of so many women, myself included. Although I'm married, I could certainly identify with a lead character who thinks constantly about her weight even as she's eating another hot fudge sundae.
Whether you love chick lit or, like me, are worried it might be too pink and frilly for you, I encourage you to try Dreaming In Black & White—it'll put some color in your life. Look for Walker's sequel, Dreaming in Technicolor, in bookstores September, 2005.
Click here to buy Dreaming in Black & White by Laura Jensen Walker