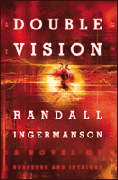 Double Vision by Randall Ingermanson reviewed by Diana Urban
Once again, Randall Ingermanson had me on the edge of my seat with his newest romantic suspense novel. His opening line, "Keryn Wills was in the shower when she figured out how to kill Josh Trenton." compelled me to read more. The cast of main characters comes from varied backgrounds that interweave in surprising ways, and I nearly forgot these were fictional people. They seemed so real that I found myself wanting to call some of them.
Dillon Richards, one of the main characters, is a brilliant engineer with Asperger's Syndrome, a mild form of autism. Ingermanson did a superb job of helping me understand what it might be like to be autistic. He also helps remove the stigma often attached to the condition by portraying Dillon as a person with real thoughts, concerns, and feelings. The supporting characters are colorful and entertaining without interfering with the story line.
Ingermanson explains the quantum tech ideas about computers so well that even a non-techie who failed physics (like me) understood the premise. The last 2/3 of the book kept me up way past my bedtime four nights in a row. The twists and turns held me in suspense, because every time I thought Keryn, Rachel, and Dillon were safe, they ended up in danger again.
His tagline on the back cover says it all. "Three secrets. Two women. One man. NO time." I thoroughly enjoyed his time-travel historical fiction books, Transgression, Premonition, and Retribution, and I look forward to his next book, whether it's contemporary or historical.
Click here to buy Double Vision by Randall Ingermanson