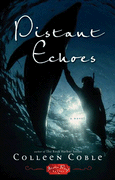 Distant Echoes by Colleen Coble reviewed by Vennessa Ng
Sink your teeth into a piece of ripe, juicy mango and inhale its fragrance as you meander through the monkeypod trees. Step out across sun-kissed sand and into the turquoise waves. Feel the nostrum of a dolphin bump your leg, begging you to come play. Take hold of the offered fin, and savor the ride as she leads you out into deeper waters.
No, you haven't entered a travel brochure. Allow me to introduce you to Colleen Coble's exotic new Hawaiian series, Aloha Reef.
In the opening chapters of book one, Distant Echoes, dolphin researcher Kaia Oana and her brothers are enjoying a typical day on the water. Her brothers fish as Kaia swims with Nani, one of the bottle-nosed dolphins she is teaching to communicate.
Then, as they prepare to head back to shore, disaster strikes. An errant missile sweeps past them and hits a tourist boat. Kaia and her brothers race to rescue survivors from the water as a military vessel hurries to the scene. Fatalities are few, but one casualty brings the tragedy close to home for Kaia and her family.
Lieutenant Commander Jesse Matthews watches the scene from his military vessel. Testing of the new missile defense system failed. But was it just a computer error? A witness on the tour boat claims the missile came straight at them, as if they were the target. And a recent break-in at the naval base raises the question: Was this just an accident, or did someone tamper with the missile system?
The security of the naval base is Jesse's main concern. He enlists Kaia and her dolphin to help protect the naval base waters after break-ins continue at the compound. But when stolen missile secrets turn up in Jesse's house, he and Kaia have no option but to continue the investigation on their own. As they search deeper for the truth, and members of their families become involved, the investigation takes on a frighteningly personal level.
Distant Echoes drew me in from page one. Colleen Coble's rich descriptions swept me across the ocean and placed me firmly on Hawaiian soil. I could smell the tropical air, hear the surf against the beach, and see the gentle movements of the hula. Not to mention feel the terror of coming face to face with a cane spider!
If you are in need of an imaginary vacation, and you're looking for a romantic suspense with lifelike characters, and a plot that will keep you guessing right to the last page, then Distant Echoes is the book for you.
Click here to buy Distant Echoes by Colleen Coble