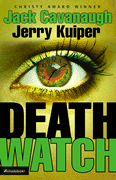 Death Watch by Jack Cavanaugh and Jerry Kuiper reviewed by Sara Mills
Sydney St. James is a novice reporter who's just stumbled across the story of a lifetime. Literally.
On her way to an important meeting at a television studio, Sydney gets stuck in traffic and ends up being late for her conference. Because of her tardiness, she loses her chance to interview the Governor. She is demoted instead to reporting on a traffic accident—the one that made her late in the first place.
But what looked like a routine traffic accident, turns into a story of apocalyptic proportions. A note found on the seat of the car next to the dead driver reads:
You have been selected for death. Precisely forty-eight hours from the time of this transmission you will die. This is an official death watch notice.
Within hours of the discovery of this bizarre note, there are reports from all over the world of deaths related to the Death Watch Notices.
Sydney is out of her league on this story, so she's assigned a partner—Hunz Vonner, a visiting European reporter—who helps her investigate and cover the world-wide crisis.
I can't say much more without giving away this supernatural thriller's plot. What I can say, is that this story made me think about my beliefs and my prejudices in a way no other book has. One line in the book was especially haunting:
"I'll tell you what's nuts," Billy said. "Believing in a supernatural God and not believing in the supernatural. That's nuts."
I'm a skeptic at heart. When I hear stories of healings and miracles in the present day, my first thought is not "Hallelujah", but "Where's the catch?" This book deeply challenged that cynicism, and my assumptions, and its message is still reverberating in my head.
A fascinating, thought-provoking tale.
Click here to buy Deathwatch by Jack Cavanaugh and Jerry Kuiper