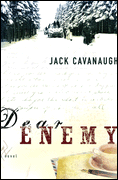 Dear Enemy by Jack Cavanaugh reviewed by Sara Mills
Itís December 1944, and army nurse Annie Mitchell is supposed to be in Paris on her honeymoon.
Instead, she is trapped in the Ardennes forest, a captive of the German soldier who shot and killed both her husband of two days, and her best friend.
Karl Hausmann doesnít fit the picture she had of a Nazi, but that doesnít mean heís anything other than a godless brute. Annie knows his gentleness and compassion are just part of his disguise; a false front designed to conceal the soul of a killer.
As Karl forces her on a march through a frozen no-manís land, hatred like Annieís never known flows through her. Hatred for this man, this soldier; this enemy.
Only one thought keeps her focused: Do whatever it takes to kill him and escape.
But when Karl disobeys orders, and then shoots his own superior to keep Annie safe, she wonders who this man really is, and what he believes. How can a Nazi soldier, who murdered the two dearest people in her life, also be her protector?
The historical setting in this book was painted with a feather-light touch. There is no bombardment of facts, dates and historical figures-- things that often slow the pace of a great historical novel. Instead, I got lost in the forest, along with Annie. I could smell the scent of pine in the air, and hear the crunch of the snow under her boots. I could feel her pain, and the emotions of her captor, as they struggled with forgiveness, prejudice, and compassion.
Author Jack Cavanaugh has scored the top spot on my recommended reading list with this novel. Dear Enemy is one of those rare finds that can be enjoyed by almost any reader. The story captivates your attention from beginning to end, and the poignant, understated ending will keep you smiling for days.
This Fall, treat yourself to an afternoon on a porch swing with this book. You wonít be disappointed.
Click here to buy Dear Enemy by Jack Cavanaugh